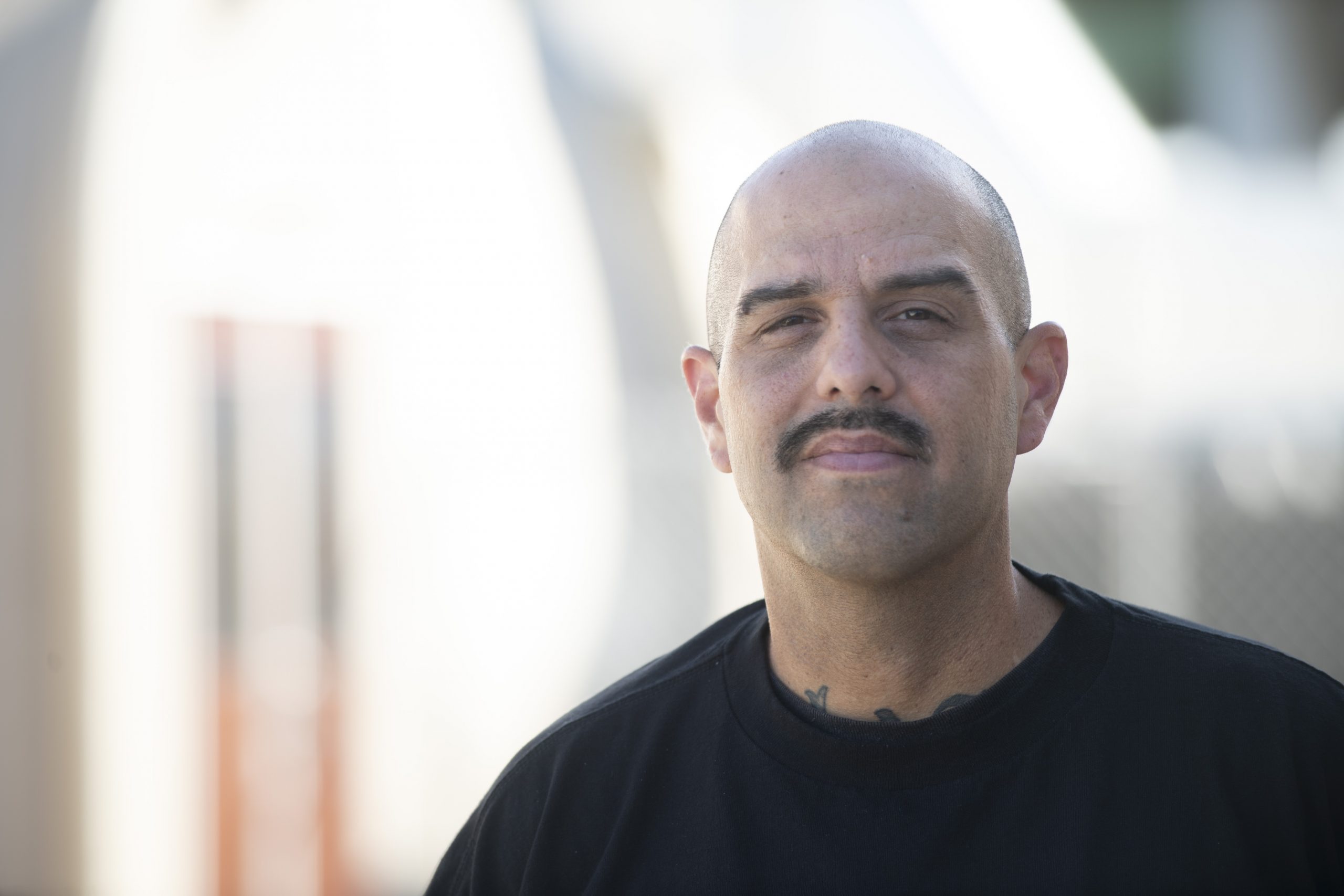 For years he lived with jealousy, anger, and confusion raging war in his head. Today, Mark is discovering true freedom and inner peace.
"I grew up in a middle-class, ranch-style home in Fresno County. I have a younger brother who is a Highway Patrolman. My mom and dad both worked hard and provided everything we needed. Though I was an honor roll student with a friendly personality, I was also awkward. I envied people around me who seemed to have what I thought I was missing. It led me down a path I now find hard to understand."
Mark's story of God's love for him began long before we met him. It started with an encounter in 2009; a guest speaker – a gentleman, also named Mark – was sharing his testimony of recovery and redemption with a group of men enrolled in a rehab program across town. After listening to details of his personal victory, Mark was encouraged and thought, "I could do this, too." Later, after speaking with him one-on-one, Mark was given the name of a church he could visit to get better connected. [Mark didn't go]
In 2016, still struggling with his addiction to alcohol and drugs, Mark attended an introductory meeting at Celebrate Recovery. The CR group was connected to the church he failed to visit in 2009. Through that church, Mark met Tony, a well-dressed man who welcomed him at the church entrance. Mark thought, "This guy is just like me," though he knew nothing about him. Later, after a long discussion, Tony told Mark, "You need to surrender to God." [Mark didn't surrender]… at the time, Mark also didn't know Tony was a graduate of the Academy program.
A few months later, Mark met Ray at the same church. Ray worked for the FRM Academy. Again, Mark thought, "He's easy to talk to; down-to-earth." After speaking one-on-one, Ray gave him his business card, inviting him to take a tour of the Academy program. [Mark didn't call]
Then, a few weeks later, Mark read a Facebook post a friend from Jr. High shared announcing his graduation from the Mission's Academy program. They connected. In their discussion, his friend told him to call Frankie, another friend from their Jr. High days who worked for the Academy program. Mark finally walked through our doors December 7, 2017.
It took EIGHT YEARS, but God finally got Mark's attention.

It's difficult to imagine Mark, as he describes, living as he once lived. Yet, his willingness to be open and transparent is a blessing.
"My biggest problem was myself. I had anger issues. To sum up the damage I caused in 40 years: I sold drugs in high school, joined a street gang for the money, prestige, and protection, and committed countless crimes, including possession of drugs and stolen property, grand theft auto, and four separate domestic violence charges. My aspirations in life were to be known as a hard-core thug whose name was in news headlines."
Thankfully, Mark's aspirations failed. Though his past was certainly peppered with riotous living and pain-filled moments he caused, the public reputation he thought he was building was nothing more than fantasy. "I was a quiet person I drank and smoked weed. Most of the arguments I had with the people in my life took place in my mind, without their knowledge. I would secretly hate them for hurting me in some way. The best example I have started with my family. My dad encouraged me and my younger brother to consider attending a private high school to help us achieve our goals, away from the public school system. I thought he was just getting on my case, not wanting me to be happy with my friends and where I was. So, my brother took dad's advice and I didn't. I grew more distant from both of them. For years I blamed them for my unhappy outcomes, jealous of my brother's success. Conversations and arguments I created with them in my head kept me angry. Over the years, I did the same thing with everyone I knew: 'They were the problem.'
When I would meet Christian men who were, at one time, just like me (yet God had clearly freed them from their addictions and pain), I began wanting what they had, too. It took a long time to have the courage to admit I couldn't achieve what they had achieved on my own. No matter how much money I made and no matter how hard I tried to be a good father and a good man, my weaknesses and the inner turmoil I felt would continue to hurt the people I loved. What I eventually discovered was they hadn't changed their own lives. Jesus had. I heard that truth a lot in prison and in church, but it took years for me to recognize that the reason I was hearing it was because God was speaking through them to get my attention. I finally listened. I'm so glad I did."
Today, Mark is preparing to transition from the Academy program into Aftercare. Because of your prayerful support of our ministries and because of those whose lives were changed through our ministries years before, Mark is now a new man. He loves the Lord, loves his 4-year-old daughter, and is looking forward to taking college courses (though his final pursuits are not yet known). He shared, "I love the people I've met through the Mission and I want to help others like so many people have helped me along the way. People tell me I'm easy to talk to and that I seem to understand their struggles – and I do. To me, it's a gift from God – a desire He placed in me when I first read these words in 2 Corinthians 4…"
"…we have this treasure in jars of clay to show that this all-surpassing power is from God and not from us. We are hard-pressed on every side, but not crushed; perplexed, but not in despair; persecuted, but not abandoned; struck down, but not destroyed. We always carry around in our body the death of Jesus, so that the life of Jesus may also be revealed in our body." 2 Corinthians 4:7-9

Mark's story appeared in the January 2019 edition of Lighthouse News.