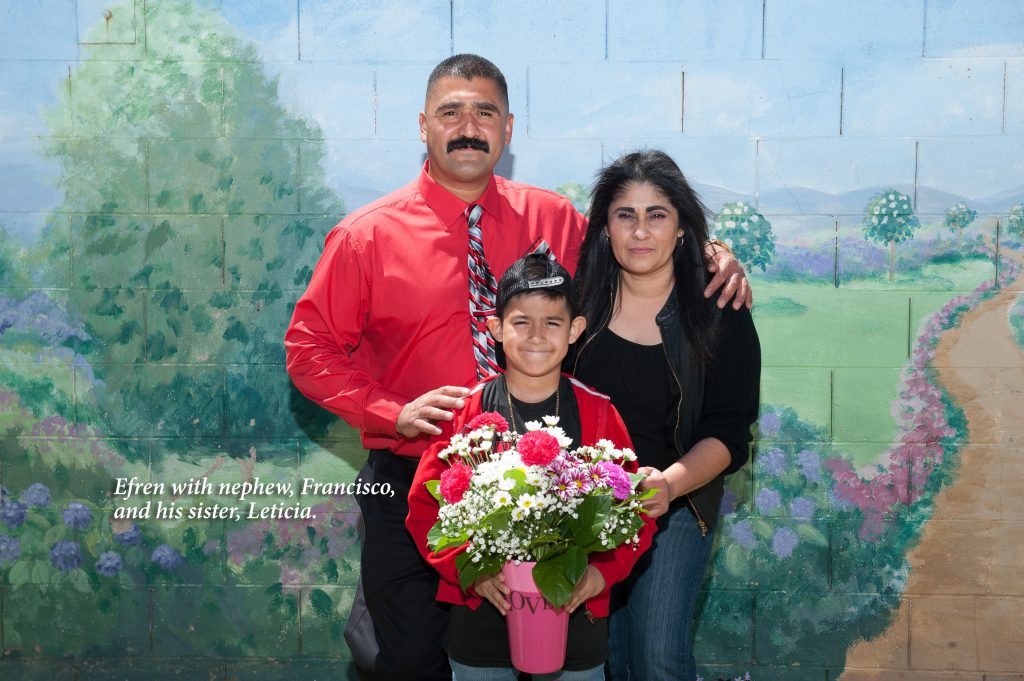 "Therefore if the Son makes you free, you shall be free indeed." John 8:36 (NKJV)
Efren cried out to God over a decade ago. At the time he was sitting in jail facing serious charges for a crime he didn't commit. "I ended up serving time in prison. I kept reading my Bible, praying for help, and sharing the things I was learning with other inmates. The experience was real, but there was still so much I didn't understand."
Efren spent most of his teen years drinking, using drugs, running with gang members, and moving from school to school. He had committed plenty of criminal acts, both in his youth and as a young man, but this time the charges seemed to define him in a way that really hurt him deeply. He was no longer able to control the pain and anger that was building inside of him. He shared, "By the time I met the Lord, I wanted help, but I didn't know what help really looked like." After prison, he slowly slipped away into old habits. He continued to make poor choices. Though he was also in a relationship and raising children, he was emotionally vacant. His oldest son was fully engaged in the gang lifestyle; drinking, acting out, in-and-out of trouble, and unable to communicate his feelings. His daughter was in a relationship with a gang member. Efren's two younger children, both barely in grade school, would likely have followed the same path had things not changed. In the summer of 2017, Efren entered the FRM Academy program.
"I came to the Mission intending to hide out. My relationship was ending and my youngest kids were not with me. They were living with their mom. My older kids were heading for trouble, and I was just tired. To be honest, I had no idea that the Mission was Christ-centered when I showed up. Looking back, I know God directed me here.
While in the program, I learned my teen-aged son was locked up in a juvenile facility facing serious charges for a crime he didn't commit. I felt responsible. I hadn't been a good father and everyone I loved was paying for the choices I had made. I knew he was where I once was. Like me, my son hates the drinking and the violence, the intimidation and aggression, and especially the constant survival mentality you live under when you're in a gang. So this time, feeling that the Lord was once more at work in my life, I started praying for my family (especially my son and daughter), talking to God in ways I never had before. Ten months later, I am now seeing the results of those first steps of faith; my son is getting the help he needs to turn his life around. The courts placed him in a special program. I'm finding that I enjoy the things the Bible is teaching me. Today I can forgive the people who once hurt me. I'm also learning things about myself I never knew before, like why I was so angry. But the most amazing part is that I finally understand what freedom really is. I found it in Jesus. He's changing my heart."
"My old self has been crucified with Christ. It is no longer I who live, but Christ lives in me. So I live in this earthly body by trusting in the Son of God, who loved me and gave Himself for me." Galatians 2:20 (NLT)
"The Mission is great. The staff and all the volunteers really make a difference. I'm impressed by all the people who actually love Jesus and (because of Him) care for people like me who are lost or less fortunate. Here, I learned to seek God's will for my life. Now, I turn to Him a lot. I may never fully know the outcome of all my prayers, but I know that it's only through Christ that real change is possible. Today, when I share His love with people around me, I'm not just spouting words. I'm fully engaged – even playing with my young children and grandchild. When I visit them, they're happy to see me. Through Christ, I'm mending broken relationships, even with my older kids. I'm creating new friendships and taking steps to prepare for a new kind of life with the Lord, preparing to graduate from the program in a few months. I haven't felt this happy since I was just a little boy.
It's a good start to a new life."
Efren's story appears in the June 2018 edition of Lighthouse News.