Your compassion & support change lives.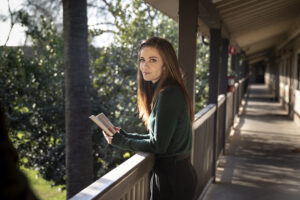 "I met God here."
Magdalena was stuck… trapped in a cycle she just couldn't break.
"I was living that revolving-door life of going to rehab, getting clean and sober for a bit and then going back out on the streets," she says.
Her troubles began when she turned to drugs at age 16 in an attempt to run away from her insecurities and fears.
"There was a lot of bullying when I was younger. I always had this idea that I wasn't good enough or worth it. Too scared of being loved… I never gave myself a chance."
Magdalena spent a decade trying to feel good about herself by using drugs, which only led to abusive relationships that left her feeling even more worthless.
The turning point came when she nearly overdosed, and woke up in the hospital mad at God for not ending her life. But then, "I remember God telling me, 'I'm not done with you.'"
After getting sober and dedicating her life to Christ, Magdalena came to the Fresno Mission, seeking support and guidance to rebuild her life.
"I don't run on feelings anymore… now I run on the trust and hope I have in Christ. "
At the Mission, Magdalena went from knowing about God to actually knowing Him. The Bible studies, counseling and classes strengthened her faith and gave her a firm foundation.
"I love this place! Since being here, I've grown spiritually. Even when I don't feel God, I know He's there."
She found emotional healing as well. "I was scared to say the word 'friend' before I got here, and now I'm creating relationships with other women. I wouldn't have these relationships if it wasn't for the Mission."
Today, Magdalena plans to go back to school and get her teaching degree so she can answer God's calling to be an overseas missionary.
As Magdalena celebrates this Thanksgiving, she feels incredibly thankful for your compassion and support – and how it's given her a fresh start in life. "Now I see myself the way I truly am… as a daughter of a King. God loves us in our brokenness, no matter what. It's amazing!"
Magdalena's story appeared in the Fall 2021 edition of Lighthouse News.